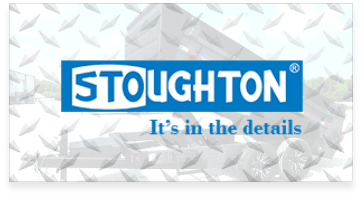 Located in Stoughton, Wisconsin, our company started as a small family-owned business in 1961 and is now one of the industry's leading manufacturers of conventional and intermodal transportation equipment. Nine different facilities in the South-Central Wisconsin cities of Stoughton, Evansville and Brodhead combine for over 1.3 million square feet of manufacturing space under roof, but it is the fact that Stoughton pays extra special attention to the types of things that other dry van manufacturers neglect, that makes this a good fit for Quality Trailers. Representing Stoughton Trailers, Quality Trailers can make sure to provide our customers with the most durable, productive, and reliable dry van trailers on the road today.
From engineering to assembly, Stoughton dry van trailers are designed to give your fleet a competitive advantage. Quality Trailers have several trailers for sale, but when you choose to buy Stoughton from us, you get more than just a dry van trailer. You get to experience the difference in quality and craftsmanship of a Stoughton brand trailer over that of other dry van trailer manufacturer.
Quality Trailers together with Stoughton Trailers, currently offer four different types of configurations of semi truck trailers for sale.
– Aluminum Sheet & Post
– Extra Wide
– Tough Plate
– Z Plate
– 4 beam main deck
– Effective November 2016, all Stoughton Dry Van Trailers come standard with our Rear Impact Guard, providing greater protection to the motoring public in event of a collision at the rear corners of the trailer.
refrigerated trailer is an innovative, conventionally designed trailer that is more thermally efficient, lighter weight & safer than other competitive trailers on the road today. The use of bonded side posts reduces the number of holes in the sidewalls to aid in preventing moisture intrusion into the trailer. Composite framing used in the front wall & rear doors optimizes thermal efficiency & reduces overall weight, letting you haul more product. Minimizing air loss with a triple wiper seal on the rear doors helps protect your cargo from the elements.
– Couple these features with Stoughton's focus on safety with the new underride guard & already legendary durability & you can see why PureBlue is the refrigerated trailer that will set a new industry standard for performance.